September 9 – 11, 2022
The 2nd Annual El Centro Del Sur Latinx Theater Festival returns presenting the best and most diverse Latinx Theater in Los Angeles. This year we return in person to A Place Called Home's Bridge Theater for one weekend only! Come join us FREE to celebrate National Hispanic Heritage Month!
Black Butterfly, Jaguar Girl, Piñata Woman and Other Superhero Girls, Like Me
Friday, 9/9 @ 8:00 PM (PT) Presented by LAMusArt
Conceived by Luis Alfaro
Written by Alma Cervantes, Sandra Munoz, and Marisela Norte
Directed by Jesus Reyes
The sixty minute play tells the story of five young girls going through adolescence in gritty East LA and finding their voices through the written word. Told through monologues, vignettes, and poetic interludes, Black Butterfly… gives an honest and compelling voice to the painful, wistful, and amusing experiences of their urban adolescence.
continue reading...
The Los Angeles Music and Art School (LAMusArt) is a 501(c)(3) nonprofit arts organization whose mission is to offer the community of East Los Angeles, primarily its K-12 population, with equitable and affordable access to multidisciplinary arts education programs. The services they provide as a cornerstone of arts education are integral to the community's cultural identity. Since its founding  in 1945 by Ms. Pearle Irene Odell, LAMusArt has served over 100,000 students, employed over 200 Teaching Artists, and provided over 2,000,000 lessons.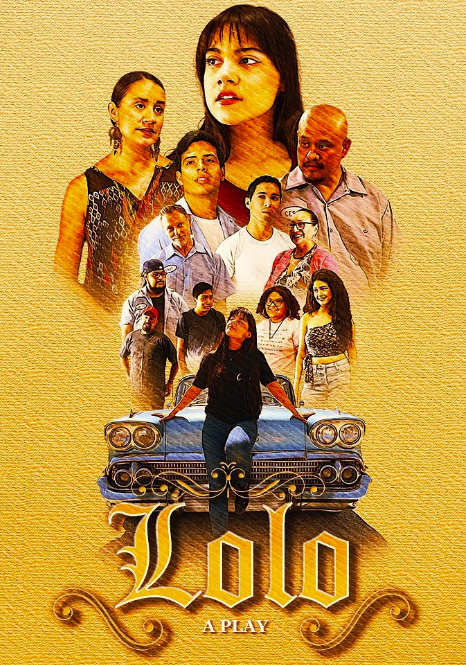 Lolo
Saturday, 9/10 @ 8:00 PM (PT) Presented by Company of Angels
Written by Chris Banda
Directed by Justin Huen
Lorraine "Lolo" Lopez is forced to return home from college upon the sudden loss of her father, Cesar Lopez, a pillar in the Baldwin Park community whose life work had been put into his shop, Lopez Auto, and his classic car. Faced with the news that her mother cannot run the shop without her and that her half-brother wants his piece of the pie, Lolo must make the difficult choice of staying on her own path or picking up where her father left off.

continue reading...
Company of Angels, founded in 1959 by a group of television and film actors that included Richard Chamberlain, Leonard Nimoy, and Vic Morrow, Company of Angels is now the oldest professional theater in Los Angeles. As such it has a revised mission to provide a space for the voices and audiences neglected by the major regional theaters. Company of Angels now produces original work by professional theater artists who reflect the communities that make up the City of Los Angeles and engages residents from low-income communities including Boyle Heights and Skid Row to develop original theater pieces for performance. In this way CoA re-envisions theater to reflect and respond to the richness, diversity, and complexity that is Los Angeles, entertaining new audiences and serving the City of Angels.
57 Chevy
Sunday, 9/11 @ 6:00 PM (PT)
Written by Cris Franco
Directed by Valerie Dunlap
Performed by Ric Salinas of Culture Clash
Ric Salinas of Culture Clash stars in this hilarious one-man comedy written by Cris Franco that chronicles the misadventures of "double immigrants" who first moved from their homelands to the U.S. barrios in search of opportunity – then moved on up into suburbs in search of color TV and the middle-class American dream! '57 Chevy takes the audience for a ride as Cris grows up with his sisters, his friends, his cousins, his Mom, but most especially with his Dad, who teaches his son that "life is work and work is life." It's a large and loving family, and '57 Chevy is filled with fun, warmth, wit and humor, ensuring a feel-good experience for the audience.
continue reading...
Ric Salinas is an original member of the critically acclaimed performance troupe Culture Clash; he and his co-creators, Richard Montoya and Herbert Sigüenza, have written dozens of plays. Ric is a theater artist, writer, social commentator and activist. He toured for several years with his solo show, 57 Chevy and also toured as the lead in the Salvadoran specific play, Placas: The Most Dangerous Tattoo. He has directed several shows for Teatro Zinzanni, a Cirque du Soleil-type show in San Francisco and Seattle. Ric wrote the books for two operas for the Long Beach Opera, adapting The Fairy Queen and King Arthur, both by Henry Purcell.  Culture Clash created the first ever Latino comedy sketch show airing on FOX-TV, producing, writing and starring in this television milestone. On the film front you can catch Ric in Encino Man, Hero, Mi Vida Loca, Larry Crowne.
A Place Called Home is a transformational youth and community center based in South Central Los Angeles. Founded in 1993 as a safe space for young people facing poverty and systemic adversity, APCH provides a safe, nurturing environment with proven programs in arts, education and wellness for the young people in South Central Los Angeles to help them improve their economic conditions, and develop healthy, fulfilling and purposeful lives. Visit apch.org to learn more.