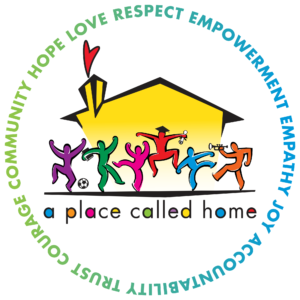 #AA6CAB
R:170 G:108 B:171
About A Place Called Home
A Place Called Home was founded in 1993 when Debrah Constance dedicated herself to providing gang-affected youth in South Central Los Angeles with a safe place after school to get a snack, do homework, play with friends and be with caring adults. For 30 years, A Place Called Home has provided South Central youth with a safe, nurturing environment and proven programs in the arts, education, and wellness to help them improve their economic conditions and develop healthy, fulfilling, and purposeful lives.
APCH has directly served more than 20,000 youth members through its core school day, after school and summer programming, and over 150,000 local residents through family and supportive services including food, clothing, and holiday toy distributions, counseling, voter education, and community organizing
Chief Executive Officer's Bio
Norayma Cabot is CEO of A Place Called Home, providing arts, education and wellness programs for youth and families in South Central Los Angeles.
Norayma has over 18 years of experience driving successful organizations with expertise in leading strategic initiatives, achieving organizational growth, working with vulnerable communities, and diversifying funding sources. As one of a handful of non-attorney Executive Directors of a legal services organization, she led the Los Angeles Center for Law and Justice through the pandemic resulting in a more financially robust and innovative organization. She also led the South Los Angeles program for the Community Development Institute and successfully revived a critical program to build community engagement and strengthen the agency's services for young children.
Norayma's career includes leading Plaza de La Raza Child Development Services for over six years. As Executive Director, she expanded services and was responsible for building and operating the largest center serving infants and toddlers in Los Angeles County. Among other notable achievements, she was able to secure $6 million to increase the capacity and improve the conditions of several facilities. She was appointed by the Governor to the State Interagency Coordinating Council on Early Intervention and has testified to the California State Assembly on behalf of Los Angeles County families.
As the daughter of immigrants, Norayma is passionate about supporting underserved communities and protecting families' rights regardless of socioeconomic status. Norayma earned her BA degree in Urban Learning and a Masters in Education from California State University, Los Angeles. She currently teaches at East Los Angeles College as an adjunct professor and is pursuing a Certificate from Harvard University.


Gareth Schweitzer

Board Chair
Barbara Glazer


Vice Chair
Susan Napier


Vice Chair
Hamed Tavajohi


Treasurer
Maryellen Zarakas


Secretary
Dawn Campbell
Sister Patricia Connor, RSHM
Michael Converse
Louise Hamagami
Sharon Hauptman
Bob Israel
Jacqueline Jimenez
Michelle Raimo Kouyate
Tom McCabe
Melissa Palazzo-Hart
Kathryn Price Converse
Howard Sherwood
Stephanie Sherwood
Ethan Smith
Alumnus
Vera Stewart
Marshall Wax
Susan Wolf
Adam Rosenblatt


Leadership Council Chair
ROBERT DAVIDOW
CEO/President, Davidow Charitable Fund
PETER M. GILHULY, ESQ.

Senior Bankruptcy Partner, Latham & Watkins LLP
CYRUS HADIDI

Chief Investment Officer, Arts & Sciences Investment Management Trustee, UC Berkeley Foundation Board Member, Partnership for LA Schools Advisory Board, College Match Board Member, Berkeley Endowment Management Company
KENNETH KARMIN

Owner/President, Ortho Mattress, Inc.
BRUCE L. NEWBERG

Independent Capital Markets Investor
JULIE PILAT

Head of Global Operations – Beats 1, Apple
Board Member, BLK SHP
Governor, The Recording Academy
DAWN TAUBIN

Board Member, IMAX China Holding
STEPHEN WINSTON

Retired Managing Director Wealth Management, Morgan Stanley