Welcome to APCH Online!
In the face of the coronavirus emergency, APCH quickly mobilized to respond to urgent and ongoing needs of youth and families that were already struggling with poverty. We suspended regular operations on our campus and launched a Family Resource Depot to receive and distribute groceries and household necessities, and later added direct delivery to the effort and began including books and art supplies in the grocery bags. We also launched a new APCH Programs Hub to provide our members with daily access to academic tutoring, mental health counseling, the arts, athletics, and pathways to college and good jobs. As we head into what will likely be a long term economic crisis, our youth and families need APCH now more than ever, and APCH needs you! We invite you to check this page weekly for fresh updates on our work during these unprecedented times and to learn more about how you can support!
View the latest highlights from our programs and services!
Letter from the Executive Director
For over a quarter-century A Place Called Home has delivered life-saving and transformational services to young people and families in need in South Central LA. Now, with the COVID-19 pandemic, our community is facing immediate challenges of epic proportions that will have an impact for years to come, and APCH is committed to being here to support their resilience in the tough months and years ahead.
All over the world, people are struggling, but especially those that were already living in the margin. We welcome your support and partnership at any level to keep APCH strong as we negotiate these rapids. Right now, the need is for funding. 
Family Resource Depot Offers Relief to Families in Need
APCH continues to monitor our member families' mounting needs, and after a brief hiatus, our Family Resource Depot (FRD) returned as a weekly grocery and household essentials delivery service, providing hundreds of families with thousands of pounds of fresh produce, paper goods, books and art supplies weekly. We are also responding directly to families and our college scholars with acute needs to provide additional resources.
APCH Members in need, please contact [email protected].
ABC7 Eyewitness News and LA This Week visit the FRD!
APCH Creates Virtual Program Hub
APCH quickly shifted to provide programming and support for our members, including the creation of a virtual campus, where members can access the same services and educational opportunities they experience on our physical campus!
Our Membership and Counseling departments are on call daily to provide case management and mental health services by phone and make referrals to emergency resources.
Our Programs staff is providing daily enrichment and learning activities to members online, including tutoring appointments, fitness and dance lessons, nutrition and art classes.
Our Music program is even conducting online lessons, using video conferencing software, and instruments we delivered to members to keep for the duration of our campus closure.
We have activated Instagram accounts to keep our Mentoring programs thriving and our teens and mentors connected to staff and one another.
Our 30 incoming and 103 current APCH Shaheen Scholars are being supported remotely by our Teen and Young Adult Services and Higher Education We are responding to their urgent needs, while continuing our college preparation and scholarship programs remotely.
Check out some of the educational and fun activities happening in the APCH Programs Hub!
Ms. Bernyce of our Digital Media and Visual Arts programs leads a bunny drawing lesson with members.
Ms. Lauren from our Nutrition & Urban Agriculture Program shares tips for a healthy urban garden.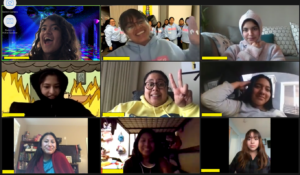 Ms. Marcee and Ms. Katherine connect with our GirlPower and Mini GirlPower members for their weekly group meetings.
Ms. Liz guides students through the history of pop music from 1960 to today in this fun, animated lesson.
Mr. Jose checks in with members of our Spring campus internship cohort, part of our Professional Readiness and Employment Program (PREP).
Theater students gather on Zoom to rehearse their production of Alice in Slasherland.
APCH Staff Share Self-Care Tips  
Caring for ourselves while serving others: self-care during the pandemic
At APCH, our programs focus on the whole person: mind, body and spirit. In an effort to "practice what we preach" we asked the APCH staff to practice self-care while working remotely during our temporary campus closure, and in an effort to keep us all connected, share their self-care tips, fun activities, and strategies for staying connected while practicing social distancing. Here is what they shared! READ MORE
APCH Shares Tips and Resources via Weekly Bulletins
Take a look at our weekly Community Bulletin for further updates on our remote programming, safety tips, resources for food, housing, financial assistance, and more!