More Than Food: Meet Dominique, Tatiana, and Michelle
Visit A Place Called Home's main campus at lunch time, and you're in for a treat. Walking into the Family Room you'll be greeted by a long line of members and staff alike eager to see what delicious meal our Nutrition Staff has cooked up that day. 
At APCH we focus on enriching the whole child–mind, body, and spirit–and our Nutrition and Urban Agriculture Department (or, "NUA") is a crucial piece of that, not only providing wholesome meals to sustain our members, but education about growing, harvesting, and preparing food, too. Here at APCH, it's more than just food. It's nourishment, it's connectedness, it's love. Day in and day out our Nutrition Staff works behind the scenes to spread that love.
Recently, we sat down with Dominique, Head Chef/Kitchen Manager, Tatiana, Sous Chef/Kitchen Assistant, and Michelle, Prep Chef/Kitchen Assistant, to talk about their roles, their food philosophies, and the new Summer Food Tour program at APCH. Bon appétit!
"Food is symbolic of love when words are inadequate." – Alan D. Wolfelt
Can you talk about your role here at APCH?
Dominique: I am the Head Chef/Kitchen Manager and in December it'll be my fifth year here. I'm responsible for creating our weekly menus, and supervising and executing lunch service for not only the APCH members, but our staff and RISE high school students as well. Recently, I've been learning and growing in my role and had the opportunity to be a part of some of our NUA (Nutrition and Urban Agriculture) classes, too.
Michelle: I'm the Prep Chef/Kitchen Assistant of the NUA department. Prepping food is the main part of my job, but recently I was actually given the chance to create my own vegan menu for the APCH staff. When I became a vegan, learning how to make dishes from my own Mexican culture vegan really piqued my interest. I brought it up to the NUA department and now we have vegan options available to staff and have even started making vegan options for our members too.
Tatiana: I am the sous chef here at APCH. I assist Chef Dominique in making sure that the meals go out properly, and when she's not here I step in to make sure everything continues smoothly. I also do ordering to make sure we have the supplies we need and that we can fulfill food requests for special events. Basically, I do it all.
What's your favorite part of your job?
Dominique: Honestly, being a part of something bigger than just me and my circle. Being a part of change. It's a great feeling to be a part of something that's really helping the community around us.
In the Nutrition department we're not only feeding our members' bodies, but their minds as well. We're not just providing them with meals and snacks, but we're getting to know them and building those connections through food. We're getting them excited about cooking and teaching them how to prepare things for themselves, and inspiring them to make good, nourishing food choices.
Michelle: I would have to say that it's the ability for me to bring an idea to the team and have that idea be executed. As I mentioned before, I was able to create my own vegan menu, and it's stayed thus far–we even often do meatless Mondays for our members now! I feel like I'm not only a prep chef, but my ideas and who I am are appreciated and implemented in the kitchen. This team allows me to experiment and gives me a full scope of opportunities.
…And another favorite part is tasting food, of course 🙂
Tatiana: Honestly, for me it's seeing the members' smiles whenever they come and ask what's for lunch? To see the excitement in their eyes is refreshing. Kids are always going to be brutally honest so we always have a couple that say "I don't like this", but at least they tried it. Seeing the joy in them when they see what we're having for lunch or when they learn something new…I really get enjoyment out of that.
What is your favorite memory or moment with an APCH member?
Dominique: Some of my favorite moments have been seeing how much our members have grown since the pandemic. After two years away from campus, getting to see their faces, how they've changed, and who they're becoming is amazing.
I actually have a member intern right now, Linda, who was always pretty involved in the Nutrition department when she was younger. She gravitated toward this department and always made sure to come by and see us. When I heard I was getting an intern and read the list, her name looked familiar but it didn't click. Then, when she came by, I thought she was just saying hi, but she said "I'm your intern!". That was definitely a special moment. She came full circle and is now a part of our team for the summer.
Michelle: I remember once I made vegan chickpea coconut curry for one of our member lunch options. We were expecting a very low count of members choosing that meal because they can be picky, but there were actually five members that came back for seconds after their first helping! That to me was a big win. It made my day because it can be hard for members to try new things, but even five members getting seconds makes a big difference. That's how we change the world; you do something that impacts someone and they impact someone else.
Tatiana: I'm still building bonds with the members because I was only here on campus a week or two before we shut down temporarily for Covid, so I had a limited time with them in person. But, now that we're back I'm starting to build those bonds. If you come back later on, I'll have stories to tell!
Something that stands out already to me, though, is that one young man, Sebastian, tends to gravitate my way. The fact that he knows my name and always recognizes me and takes time to say hi no matter where I am on campus, that's memorable to me.
How have you seen APCH's holistic approach to food show up in our members/families?
Dominique: It's been very important (and sometimes challenging) for me as the leader of this team to encourage our members to make better choices for themselves. But, the program as a whole makes that a little easier. When they see the process of how food is grown and are part of planting it and harvesting it, it makes them more open minded to try new things. It shows up when we get the opportunity to give them fruit that's come from our APCH garden, and instead of them choosing another option, they would rather have the thing that came from our own garden.
We encourage them to love their food and the things that they are creating, and give them the knowledge to be able to create in their own way. You're not going to like everything, but when we're in these classes and we're creating, we have all these ingredients, but you're not required to use them all–create it the way that you want, the way that looks good for you. We tap into their creativity, and allow them to be themselves as they learn.
Michelle: I think it gives them a lot of inspiration to look outside the box. For example, if there's something that's in season this summer, our members are already thinking about what they can use it for. I remember when the passion fruit was in season our members would harvest it and come to us asking if we could wash it for them to prepare.
Also, they can pass the knowledge that they learn here onto their parents and their families, and we even provide the supplies for them to grow some food at their homes. It's a growing community of knowledge about food.
Tatiana: We've also done a couple of monthly workshops with parents related to the wellness side of things. We started off in February with self love and I created potpourri bags and put together a kit for them with information about the benefits of the herbs I used–they don't just smell good, but they are also great for stress relief. We try to make wellness and food go hand-in-hand in our work, because they do.
"We're not just providing them with meals and snacks, but we're getting to know them and building those connections through food." – Head Chef Dominique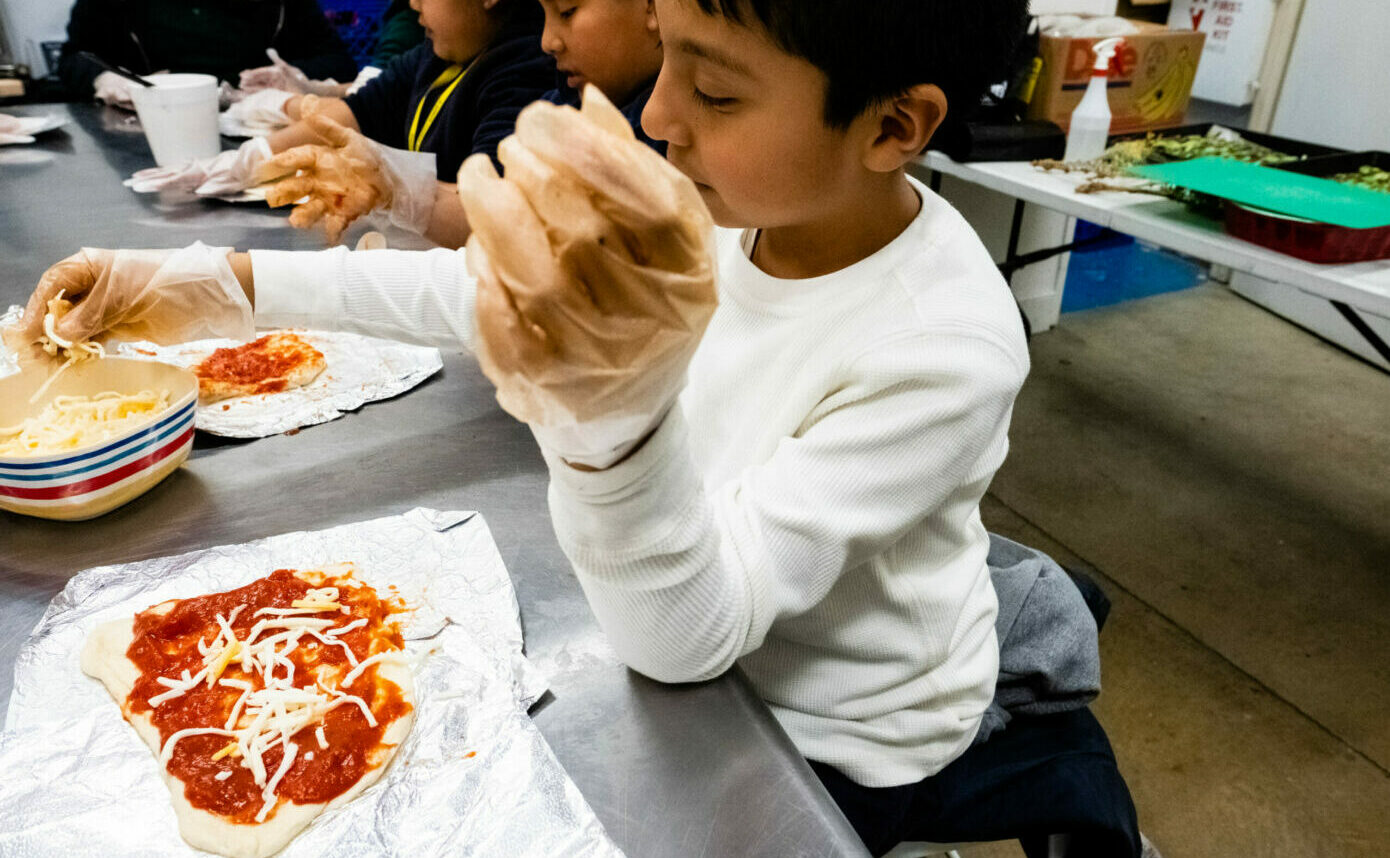 Can you talk a little bit about the Summer Food Tour program?
Dominique: Through the program our members will not only be preparing food, but they'll be learning an element of culture, art, or science to go along with it. We'll be making things like chocolate mousse and learning about that scientific reaction, and pretzels which will require them to use yeast. At the end of the class they'll get something they created and learn something in the process.
We'll also be hosting pop ups where members can come in during the lunch hour and help make various snacks like trail mix and granola bars to get members more involved in the kitchen. I'm excited to be a bigger part of our summer programming with our members this year.
Michelle: I'll be doing one pop up during the program for the paletas (a frozen Mexican treat made with fruit). Their instructor will be teaching them the history and culture of paletas, and then with me they'll be learning what goes into a paleta and how to make their own.
It's something that they can do easily at home. I know growing up, most of the time I was on my own with my sister and we wanted a snack, so this is something our members can learn to make on their own to sustain them or something they can make for their parents as a treat. They're gaining knowledge, learning food prep skills, and building their creativity. They can learn how to create their own flavor combinations, and use their imagination. I like to say "you lose nothing by trying new foods, but you may gain a new favorite."
Tatiana: My inspiration for the program came from a previous job where they had seasonal sessions for kids to come and cook. The focus is on summer fun, but making sure that they're learning new techniques as well as learning the cultural and scientific elements of the dishes. Our members get to create summer treats and explore different things from around the world. The goal is to get them excited about food and give them something they can take with them. When I was young, my grandma made sure I was in every activity during the summer and I remember that vividly. Those were good memories for me, and I want to give our members that same thing.
To learn more about our Nutrition and Urban Agriculture program and all of the programs we offer our members, click here.